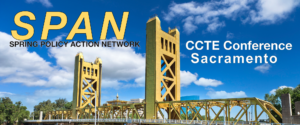 The Spring Policy Action Network (SPAN) Conference represents a policy-focused approach to our spring meeting.
The initial announcement of the CCTE 2020 SPAN Conference will appear in the forthcoming Winter 2019 issue of CCNews. Return to this page to see the relevant updates.
Information from our past Sacramento conferences are archived below. You can also follow updates and view slides from past presentations on the Policy Committee page.
Conference Program (2019)
Conference Program (2018)
Conference Program (2017)
Research Sessions (2017)
Looking for information about Sacramento?
Click here for a quick guide to the city, or go to the Visit Sacramento website.
Map of Downtown Sacramento
Website for the Citizen Hotel
Know Before You Go
How to Find Your Legislator
CA Senate Education Committee
CA Assembly Education Committee
Overview of the Legislative Process