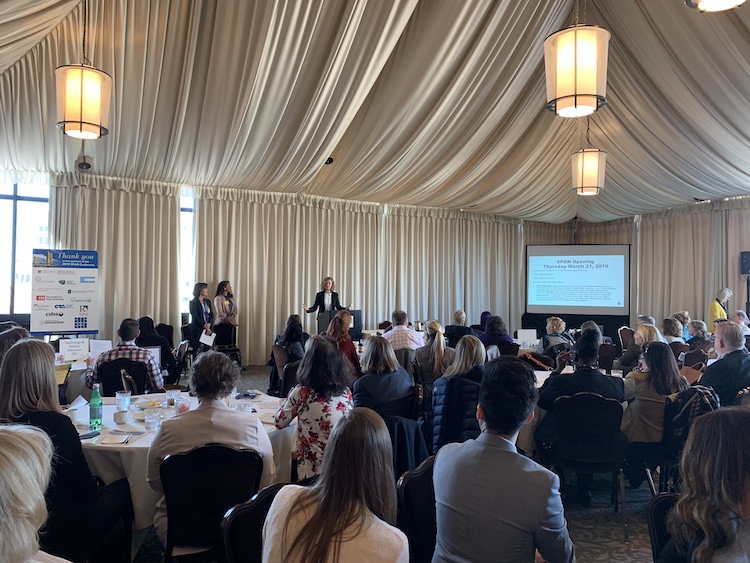 CCTE conferences are the perfect opportunity to share information with colleagues from throughout the state.
Next Conference
Fall 2020 CCTE Conference
October 22-24
This Conference Will Be Virtual
Theme: The Future of Teacher Education
Conference Announcement
Tentative Program
Call for Proposals
Conference Registration Form
On-line Registration link
Most Recent Conference
CCTE Spring 2020 Virtual SPAN Conference
Co-Chairs of the SPAN Conference
Cindy Grutzik San Francisco State University
Nicol Howard University of Redlands
Pia Wong California State University, Sacramento
Due to the coronavirus pandemic the place-based CCTE Spring 2020 SPAN Conference scheduled for March 19-20 in Sacramento was cancelled.
It was replaced by a series of virtual programs which were presented live via Zoom on March 19 and 20 and recorded for further viewing by any interested persons or groups. Below are the links to each recording:
Virtual SPAN on March 19 – Opening Session(s), Accreditation and Practice Policy, and Closing
https://www.youtube.com/watch?v=fVzHG0RMPhg
Virtual SPAN Chat Transcript – Part 1
Virtual SPAN podcast (audio only) – Literacy, the New TPEs, and Program Embedded Fieldwork Assessment
https://anchor.fm/nicol-howard/episodes/SPAN-2020-Virtual-Conference—Literacy–the-New-TPEs–and-Program-Embedded-Fieldwork-Assessment-ebr7hs
Virtual SPAN Chat Transcript – Part 2
Special Education SIG Meeting on March 19
https://lmula.zoom.us/rec/share/-uJHILzPpz9OWKvx6ljeR58vTqmmT6a81Ccf_fBYynWCO3u1HsTmiGCovewbqbU
CAPSE/TED Meeting on March 20
https://lmula.zoom.us/rec/share/tPVZPZHB-EFITs_zxRDESJYNWb39aaa8hyFPrqIMxf4J2MA1sSM72ADZdUAcako
CABTE Meeting from March 20
Information to be added soon
AICCU-ED Meeting from March 20
AICCU-ED Zoom Recording 3/20/20
Chat Transcript from AICCU-ED Meeting on March 20
AICCU-ED Zoom Chat Transcript
CTC PowerPoint Presentation from AICCU-ED Meeting on March 20
CTC PowerPoint Presentation
A PDF publication of the research presentations that had to be cancelled
CCTE SPAN 2020 Research Monograph
Call for Proposals
CCTE invites submissions of research and practice proposals for future conferences. A Call for Proposals will accompany the announcement of each CCTE semi-annual conference. Watch for those announcements here on the website and respond to the relevant call.
Link to On-Line Submission of Proposals for Fall 2020 Virtual Conference
https://forms.gle/mk5PgksQpKSm15T3A
Sample Proposals: