On this page, we will highlight CCTE members. It's a quick way for folks to "get to know" our organization and the people behind it. Enjoy!
Drumroll, please…What better way to start our Member Spotlight feature than to begin with our Executive Secretary Alan Jones?
October 2020 Spotlight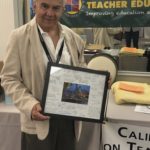 Alan H. Jones has been involved as a member of the California Council on Teacher Education since 1974, including service as an elected member of the Board of Directors in the late 1970s, as editor of Teacher Education Quarterly from 1987 through 1998, as chair of the Policy Committee in the mid-1990s, as a speaker at semi-annual CCTE conferences on multiple occasions, and as part-time Executive Secretary of the organization since 1998. In the Executive Secretary role he reports to the CCTE officers and Board of Directors, with responsibility for annual membership, organization of semi-annual conferences, development and monitoring of the annual budget, communications, and support for committees and associated organizations.
Alan also is the owner and publisher at Caddo Gap Press, a small educational publishing company in San Francisco that specializes in journals in the fields of teacher education, the social foundations of education, and multicultural education. The company publishes both Issues in Teacher Education and Teacher Education Quarterly under sponsorship of CCTE.
Prior to his current work with Caddo Gap Press and CCTE, Alan has been a junior high school teacher in Ann Arbor, Michigan, an instructor at the University of Michigan School of Education, an assistant professor in social foundations of education at Eastern Michigan University, chair of the Department of Education at Sacred Heart University in Bridgeport, Connecticut, a researcher with the Office of Institutional Research at the University of Michigan, a consultant with the California Commission on Teacher Preparation and Licensing, the executive secretary of the Michigan Chapter of the American Association of University Professors, and an editor and publisher at Prakken Publications in Ann Arbor, Michigan. He holds B.A., M.A., and Ph.D. degrees from the University of Michigan in history, international education, and the social foundations of education.